TSVP - TOURNEZ S'IL VOUS PLAIT
Since 2002, TSVP produces documentaries for all the major French channels (France televisions, ARTE…).
TSVP produces scientific series in the field of archaeology with Sur nos traces, 30×26′, or Enquêtes archéologiques, 30×26′. Also ethnology films with the series Rituals, 15×26′ broadcast in 2020. The films are regularly selected and awarded in international festivals.
For France Televisions, they collaborate on the Science case (90′), with Easter Island, the Hour of Truths, or Schnidi, the Ghost of the Neolithic.
They also produce heritage films, investigative and society documentaries. Maids, by Alexandra Jousset has been selected for the FIPA, FIGRA and the Albert Londres Prize in 2017. Birmanie, le pouvoir des moines, by Joël Curtz and Benoit Grimont was selected for FIGRA 2018. In 2019, Défi de solidarité, by Caroline Darroquy and Anne Richard, was selected for FIPADOC.
They also launched theirselves into film production by creating Moteur S'il Vous Plait (MSVP) in 2004. Seven feature films were produced. Lost in Paris by Abel and Gordon in 2017. Kings for a day by Xabi Molia, starring Kad Merad, Sylvie Testud and Kacey Mottet Klein in 2018.
See movies catalog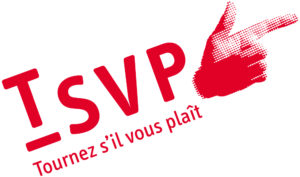 Address:
8, boulevard de Bonne-Nouvelle
75010 Paris - FRANCE
Phone: +33 (0)1 40 26 07 74
E-mail: info@tsvp-prod.com 
Member(s) of the AST :
Christie Molia, Producer
Agnès Molia, Producer